Audio Message from Bishop Coulter: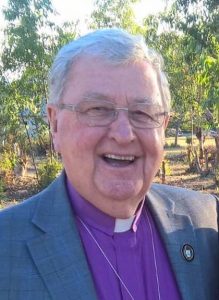 TEXT VERSION
Rom 10:15 And how shall they preach unless they are sent? As it is written: "How beautiful are the feet of those who preach the gospel of peace, who bring glad tidings of good things!" (NKJV)
The Coronavirus is the major topic in everyone's conversation. It has gone from a concern to full blown panic. Rumors are spreading and people are in a panic mode. One of the tricks of satan is to make a situation look larger than it is. But we must not let him distract us from our mission to deliver the word of God to a dying world.
Remember fear is not in your inheritance, as Rom 8:15-17 tells us:  For you did not receive the spirit of bondage again to fear, but you received the Spirit of adoption by whom we cry out, "Abba, Father."  The Spirit Himself bears witness with our spirit that we are children of God
 In Heb 13:5 we are told God will not forsake us! And, part of our inheritance is found in 2 Tim 1:7 For God has not given us a spirit of fear, but of power and of love and of a sound mind.
Prov 18:21 tells us that the tongue can bring death or life; We must start speaking life into the situation. It is time for us to boldly declare God's truth to a secular world that is looking for hope.  People are open to hearing hope where there seems no hope. They are open to the Gospel of Peace.
As Christians let us not get caught up in the panic of the Coronavirus scare.  Let us bring the Gospel of Peace to those who need salvation and peace of mind. In Christ we have the peace that passes all understanding. So, share the hope of the Gospel with those around you. Speak life into your sphere of influence. Let them know that God wants the best for them in their lives.
And KNOW this, remember this: Prov 18:21 also tells we can speak death into the situation. Let us speak death to rumors and misinformation that causes panic and let us speak DEATH to the virus and kill it.  Speak forth and bring life to those around us and speak death to the Coronavirus. Use the Authority and power you have in Christ's name, through the guidance of the Holy Spirit, to call the Coronavirus null and void.  Mark 11:23 gives us that authority:   For assuredly, I say to you, whoever says to this mountain, 'Be removed and be cast into the sea,' and does not doubt in his heart, but believes that those things he says will be done, he will have whatever he says.
Next is a prayer to defeat the corona virus. I encourage you to pray this prayer in agreement with us and/or pray your own prayer against the destruction of this virus, as the Holy Spirit leads you.
PRAYER OF AGREEMENT TO DEFEAT THE CORONA VIRUS
Heavenly Father, In the Name of Jesus Yeshua, we agree the virus named Corona needs to be confined and to die. We decree no weapon formed against the gospel will prosper. We lift up our eyes to the hills from where our help comes from as we trust in You. We declare this virus is under our feet and in the mighty name of Jesus Yeshua it is defeated.
We speak a fresh anointing for the gospel in China for supernatural healing of those infected in China and other places by this virus, that as believers pray for the sick the power of God will be seen to the glory of Christ. We declare the root of this virus is cut off now in Jesus' name and we cancel all and any assignments against TMCI and every believer advancing the gospel.
We address this sickness and all afflicting powers. Your power to use this virus is broken. We release healing and restoration to overtake this virus and it will cease to exist in Jesus name.
Remember nothing is impossible with God. So, let us go forth boldly to bring peace and take territory back from satan.
Bishop Bob Coulter