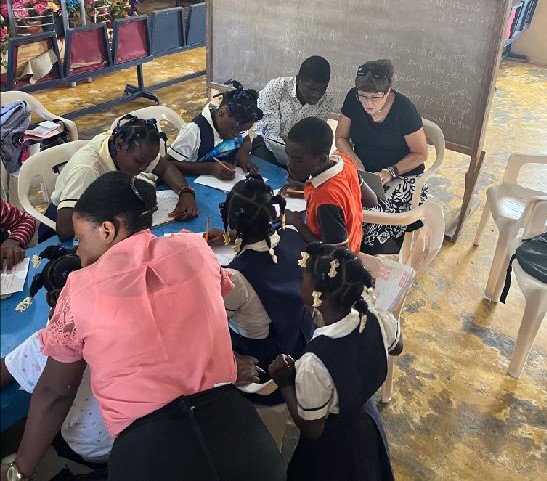 El Pino Needs a Building!
Our Haitian Education Center in El Pino has been under some pressure
to move from the church where they have been meeting. Thanks to our
donors, we were able to purchase a property and have the funds to start
with the foundation. We will need $25,000 to complete this project; this
will ensure 4-6 classrooms for up to 100 children. This Thanksgiving will
you consider sending funds to help with the El Pino Education Center
and Church Project? Your gifts are tax deductible. Pastor Wilner is
committed to helping these children. Without the school many children
would not receive any education. Public schools are over-crowded and
the Haitian children are last to be offered placement in a classroom.
They don't speak the language, and they may not have proper legal
documentation They are part of the immigrant population fleeing the
dangerous living conditions in Haiti. Debbie has been raising funds to
support 15 schools with over 1000 Haitian children on a monthly basis.
She believes it is a crime for a child not to be able to receive an
education. Will you consider providing help? For $25.00 a month you
can sponsor a child. If you would like to help with this project, or
provide on-going support for the children's programs, you can donate online at www.tmciworld.com
Project Updates:
By the time you read this note, the Limoncito Sanctuary Project will be completed. Downstairs, the Haitian Education Center will finally have its own space for classrooms. A team from Evangel Assembly, MA will be with us to help partition the classrooms, and will minister to children and adults plus
provide healthcare.
The El Hatico Sanctuary Project is moving forward and our goal is to have the sanctuary complete before the end of November. We are grateful for the funds we have received for this project. Hopefully within a week or two the floor, electrical, windows and doors should all be in place. This congregation will celebrate Christmas in a new sanctuary!
We are receiving funds for small homes for three pastors. Pastor Frantz of the Barranca project, Pastor Alex of the Sabaneta Project, and Pastor Danes of the Cutupu Project. These ministers work sacrificially and have tough living situations. What a blessing for them if we can help them. We are estimating a need for $11,000.00 each. Material costs are affecting us strongly. We have received $9000.00 thus far. PTL!!

We appreciate each and every one of our partners, whether you are praying for us or are part of the
financial lifeline. We are so thankful for you and for God, for what he is doing here in the Dominican
Republic. Wishing you a special Thanksgiving celebration with family and friends!
Mitch and Debbie Martinez