Finally, a mission trip to Africa again
After being home for just over three years, I was finally able to make my first mission trip. This time it took me back to Uganda where I was the preacher for the consecration of two new bishops along with taking a computer and arranging funds for a big screen TV for the Rwenzori School of Nursing in Kasese, located in western Uganda.
The trip certainly had some challenges. My back surgery did not go well as I'm still dealing with sciatica. The United flight to Brussels from Chicago was great, but taking Brussels Air to Entebbe, Uganda posed a real challenge. The flight was full and the seats were not designed for someone with long legs. The entire eight hour flight found my legs slammed up against the seat in front of me.
Arrival at nearly midnight in Entebbe was wonderful as I smelled the waters of Lake Victoria, Africa's largest lake. The international airport for Uganda is along the shores of Lake Victoria. My friends came and greeted me as we took the road to Kampala to my hotel.
The trip was a short one—only two weeks. I had been asked to be present to preach at the Worldwide Anglican Church's (WAC) Centenary. It was the 100th anniversary celebration—one year late thanks to COVID.
I had been asked by the Patriarch, the Most Rev. Christopher Lwanga Tusubira to prepare updated Canons, which are the laws and rules of the church. They had not been updated and officially adopted since the inception of WAC in 1921. I was also to be the preacher at the consecration of two new bishops. One was for eastern Uganda while the other would become the first bishop for Canada.
The event was held in the eastern Ugandan city of Mbale. One of the larger cities for this east African nation, Mbale was where I started my work in Uganda back in 2000. The city sits in the shadows of Mt. Elgon, a 14,000+ foot dormant volcano which is home of major coffee production.
Nepal journey starts January
The first major mission trip of 2023 will begin right after the New Year and will last until early May, according to Bishop Jan L. Beaderstadt, president of Renaissance Out-reach Ministries.
Bishop Jan will travel to Nepal January 5 where he will spend ten weeks in Kathmandu. While in the country, he will be present at the graduating class of the Jesus Seminary of the Himalayas. During his time there, he will be teaching classes to Master Level students along with conducting basic training programs to pastors.
The Basic Training Program is a six month course designed for those pastors in rural areas. The course was written during COVID as he recovered from ankle surgery.
The program in Nepal will bring two or three pastors from a particular area for in-tense, one week training. They will be able to return to their area to teach the program in their native language. All who complete the course will receive a Certificate of Completion from the Jesus Seminary of the Himalayas.
Because of physical limitations these days, Bishop Jan will spend most of his time in Kathmandu (the sciatica does not allow him to do a lot of travel to rural areas like before.) The time in Kathmandu will also allow Bishop Jan to do some administrative duties with the Jesus Seminary. When he left in 2019, no one could have predicted the world being shut down due to the pandemic.
The Jesus Seminary has been waiting until Bishop Jan's return to hold a graduation of PhD and Master Level students. They have also begun a bachelor's program whereby they are now offering introductory level of theological training.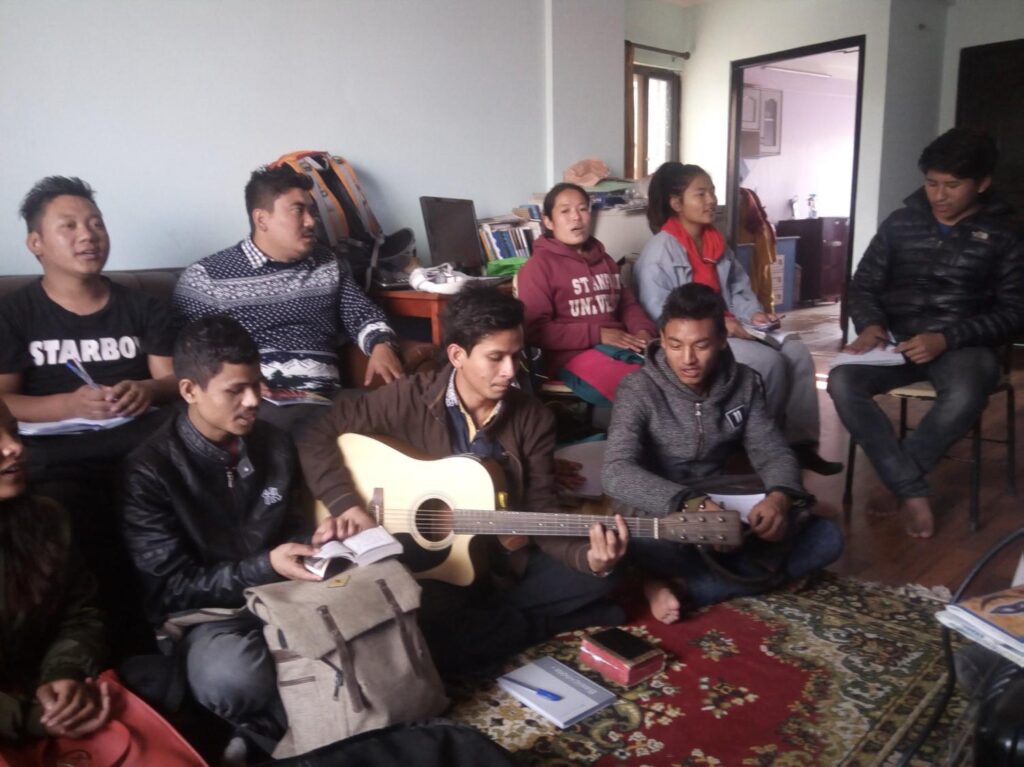 Rural Training Comes to Kathmandu
These days Bishop Jan is not able to travel to the remote regions of Nepal to teach as he did in the past. This is due to health issues as arthritis and sciatica does not allow for such travel in local buses. Instead, people will now come to him for a week of intense training.
The new way of teaching for Barefoot Pastors is to bring two or three leaders who speak English for five days of extensive training. They will stay at Bishop Jan's apartment in the spare room. They will spend their days learning the program so they can return to their communities to train others in their native languages.
"This actually is a much more economical approach" noted Bishop Jan. "By doing so, we can focus on extensive training rather than having to rent facilities and pay for several days worth of food for a large group of pastors. "
All materials will be given to the leaders who can then reproduce them locally. Graduates of the program can get a Certificate of Ministry from the Jesus Seminary of the Himalayas. Renaissance Outreach will provide food for the pastors who come and pay for transportation one way to the capital city. It does require the leaders to invest a small amount of money, thereby assuring that they will take the program seriously. Bishop Jan will stay until March 25 when he heads to Uganda for six weeks of teaching. He will return to Michigan May 9th.
Join us for a Uganda Crusade April 10—24, 2023
There's nothing quite as exciting as being part of a crusade for Christ in Africa. Renaissance Outreach Ministries will be featuring Two Crusades right after Easter in the East African Nation of Uganda April 10 through 24 of next year.
Uganda is a safe, western oriented East African country with a stable, pro-American government. The people of Uganda are very friendly and are known for their hospitality.
In Uganda, crusades will be held in two locations. One of them is in the capital city of Kampala where the crusade grounds will hold over 5,000 people. A smaller crusade will also be held in the western city of Kigadi where we anticipate anywhere from 1500 to 3000 people in attendance.
The Uganda Crusade will give a great flavor of the various people and denominations of the country. In Kampala, we will enjoy the hospitality of six major denominations while in Kigadi we will be host of Pentecostals. All of the crusades will feature local choirs. At both locations, we will have translators. While English is an official language of Uganda, not everyone speaks English.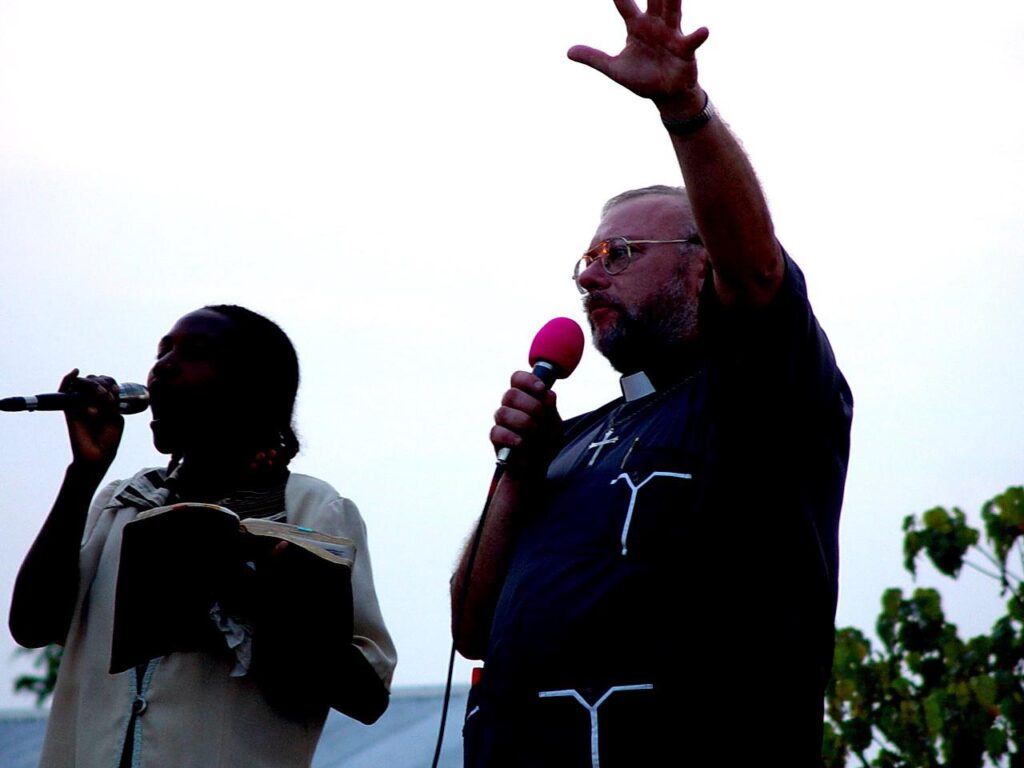 During the days at each crusade location we will have pastoral training seminars. It is especially important in places like Kigadi which does not have access to local Bible Schools.
Accommodations will be three star hotels with western toilets and hot water showers. Food will include both traditional Ugandan as well as western foods. While in the country, we will travel in 15 passenger Toyota HIACE Vans which are comfortable and ideal for travel. Spouses are welcome to join us on the trip. There will be an opportunity for sightseeing as well as to take a one day safari into Queen Elizabeth National Park at Kasese.
The government of Uganda does require all have a yellow fever shot prior to entry. This is the ideal time to travel to East Africa. Weather is sunny with occasional rain. Highs are around 85º with a low of 65º at night.
The cost to participate is $2600 plus airfare (estimated at $1500 roundtrip per person.) The expenses are based on three people traveling with Bishop Jan Beaderstadt. If more participate, then the costs will be cheaper.
The costs cover the following:
Rental of Van w/driver—$800
Fuel Costs—$1200
Lodging- $560 per person, double occupancy
Two Crusades at $700 each
Advertising & Promotion in Uganda—$900
Food for Travelers—$640
National Park—$125 per person (Inc. boat trip)
Guide
We cover the cost of translators, crusade promotion and all transportation expenses. We do not cover the cost of musical instruments, or provide food for those in attendance. We are in partnership with the local churches, and they are expected to provide location, sound systems and musical groups.
For more information, contact Bishop Jan Beaderstadt . He can be contacted by phone until January 5, 2023 at (989) 254-1279 or by email anytime at [email protected]
Plan to be a part of this exciting event!