Grace to you and peace from God our Father and the Lord Jesus Christ. Our prayers for you are that you would find restoration and healing in your spirits, minds and bodies as you spend time with the Father, Son and Spirit during this season. That you would be given great discernment in this time to see past the lies of the enemy as he roars as if he is a lion able to devour you. That all plans of the enemy that have been waged against you and your families  would be called forth null and void and that any plans that have had seeds of doubt that were previously planted would be pulled out at their roots. This is the day to stand in battle attire as the bride of Christ waring together in unity against the enemies plans for our nation and all countries around the world.
Today marks the 7th month we have been in Honduras. Each month brings new experiences and reasons to celebrate the blessings of God. We hope you all are doing fantastic.
We had the pleasure of working alongside a mission team from New Life Church, our home church in the states. What a blessing it was for us to have them here. Most of the people were on the team when I (Cele) came here in May 2022 for my 1st mission trip to Honduras.  

We have been building relationships within this community and have recently met a young lady who speaks English just as plainly as we do. Yese (Brenda) is a young mother who's husband works as a security guard. She has 3 children, the youngest of which is 8 weeks old this week. We went on an adventure with her and her daughters. We took a bus (van) to Villa Nueva, had pizza at Little Caesars and then walked across the highway to get ice cream from Wendy's. We then all crammed into a moto (a 3 wheel type motorcycle with a red enclosure but no doors Pictured below). What an interesting adventure we had.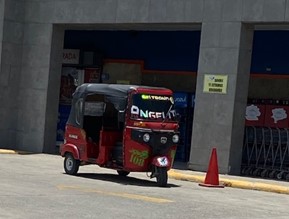 We also have occasionally been sharing meals and coffee with the 2 men and one young boy working in on the house next door. Last night we shared mac n cheese with hamburger which I told them was "dinner Americano style" lol
We enjoy spending time with Hilda and her family. One day she made tortillas with a little help from me. Les is extremely happy when she makes tortillas here with me. We have been practicing our Spanish when we talk to them which is helpful for us. We are so happy to have them in our lives.
Update from last month information on how God protected Les from death. It was about this time in September 2018 that Les was finally getting stable enough to go home from the Hospital. He was now in his 3rd hospital. He had gotten so dehydrated that his liver and kidneys had both shut down. We were told that if we had not brought him in he would have died during the night. He had had 3 potentially life-threatening surgeries and an emergency procedure to close his stomach before his intestines burst out during the 6 weeks in the hospital.
Now, 5 years later Les still has some issues as a result of the surgeries. We are believing that the Lord will replace the important parts of his body that were removed in the surgeries and his healing will glorify God and give others hope for such a miracle.
One person who can use that hope is a young boy Les had the opportunity to pray for while the mission team was here. Although this boy had his surgeries and open wound in his back, some of the results are the same. It is our desire to agree with his mother for the manifestation of healing in the body of this young boy. We don't know his name, but we do know where he lives and we would appreciate your prayers for him. His mother is a strong believer and knows God is healing her son.
Yese's son Adrial is recovering from bronchitis. She was able to get him a nebulizer to help open his lungs and has a some essential oil I gave her to help him breath easier when there is no electricity for the nebulizer.
Shortly after I sent the last newsletter there were 3 incidents that happened that reminded us of Gods protection and angles watching over us. I wrote about this on FB, but am adding it here because most of you are not on our FB Ministry page (Les N Cele Walker). It started when Les was sitting on a plastic chair on our porch area. The rear chair leg gave out causing him to fall out of the chair jamming his right shoulder. The blessing was that he didn't hit his head on the cement wall, the water faucets hanging out of the wall right behind him or the large water pump that draws water from the cistern into the house.
The second event was when Les tripped and fell in the street just after giving a stranger water. He fell face forward and didn't hit his face or head on the ground. That could have broken his glasses as well as his teeth. Once again, he had body aches and some raw and missing skin yet was spared any major problems.
The 3rd time we know we were both protected from a potentially deadly situation. We were going to town when a moto pulled up next to us and let us know we were leaking gas under Les's side of the truck. We thanked them and Les turned around and drove back to our neighborhood. It never dawned on us that that might not be a good idea. We made it to the mechanics and shut it off. When Les started the truck to move it to the work area the man quickly said to shut it off. He saw that the gas was pouring out from under the truck. If someone had flicked a cigarette, the exhaust had been to hot or if there had been a spark we could have caught fire and/or blown up. Praise God for His protection. The fix was less than $40.
When we went to church that Sunday morning the church members prayed for Les's body aches and they went away. We are eternally grateful for all of you that pray for us. You may never know how your obedience to pray for us when the Lord encourages you to pray might be the difference between life and death.
Praise Reports
I have been advancing in my Spanish language skills and am practicing daily. Les is not as far along as I am, however, he is practicing.
My little toe is totally healed from the brake and the discoloration is going away.
Les's scrapes and cuts from his fall are healed up.
Yese's baby Adriel is doing much better. We had several friends praying for him.
We have been praying for my friend Hilda and her mother who had a stroke. Her mother is recovering well and Hilda has had a healing in a family relationship that went back many years. The healing allowed her to lower her stress level so she is not having as many headaches.
Our neighbor Rosa is healed up well after her accident that pushed her down 5 steps to the street. She is living alone and walking to the store and back.
We paid off our truck this month and will be getting the paperwork done to get it in our name.
We were able to help several ministries and people in need this last month. We have been budgeting to ensure we have enough to pay our bills and have extra to help others. The Investment into others and other ministries is an important part of our ministry here.
My son Felix is working consistently and able to support himself for the first time in years. He is living with some friends that have helped him make some positive changes in his life. He is healthy and happy.
My daughter was offered a full-time position and her and her husband were able to adjust their work schedules so she could accept the position, and each spend a good amount of time with their children.
My granddaughter Cloe broke her collarbone in two places. Although that was not a good thing, God turned it into a better situation by having the breaks be ones that heal fast with little issues. She's been able to keep her grades up in school and only missed a couple day's.
My granddaughter Cora has gotten her first job and is sharing her faith with a little girl she is watching.
My niece has been able to stay straight for 9 months which is a fantastic miracle. I am one of the few family members that has helped her out and stood by her through some tough times in her life. Because of my past life experiences I am uniquely qualified to share in her life's ups and downs. God has truly blessed me to be a blessing in her life.
One of the young girls at the school here is learning English on Duolingo, the app I am using to help me increase my Spanish skills. She contacted us and we are now supporting each other as we learn to speak each other's native language.
****I want to let you know that if there is anything you would like us to be in prayer about with you or for you, please do not hesitate to let me know. We will be happy to join in bringing your requests before God.
May the Lord bless you and keep you. May He make His face shine upon you and bring you strength. May you be bold in your faith and able to share the love of God to those you come in contact with each day. May the blessings of the Father overtake you and bring you peace and strength to stand in this season. May your sorrows be few and your joys bring you peace and strength. May you have many moments where you are able to dwell in the secret place of the most High God and abide in the shadow of the almighty God. That you may find clarity of vision and fulfillment in knowing that He who began a good work in you is faithful to complete it so there are no loose ends in your lives.
If you would like to contribute to our ministry there are several ways you can do that. Please put a message that the contribution is for Walker Ministries in Honduras – Les and Cele Walker.
Zelle is: [email protected]